Josh Swickard Performs The Chainsmokers & Coldplay's "Something Just Like This" In GH Nurses' Ball Sneak Peek
General Hospital is getting you ready for the GH Nurses' Ball 2019 edition, by releasing the full musical number performed by Port Charles' Harrison Chase AKA Josh Swickard during the gala.
As a prelude to the ball and what is to come, Swickard takes on the top hit made famous by The Chainsmokers and Coldplay, "Something Just Like This" along with the Nurses' Ball dancers.  And yes, there is cute moment for Chase/Willow (Katelyn MacMullan) fans when he brings Willow up to the stage!
Lucy Coe (Lynn Herring) introduces Chase before he performs and Lynn Herring took to her Twitter account yesterday when GH released this sneak peek stating: "Hey, how did this get out there before the BALL!! Someone has some 'splainin' to DO!"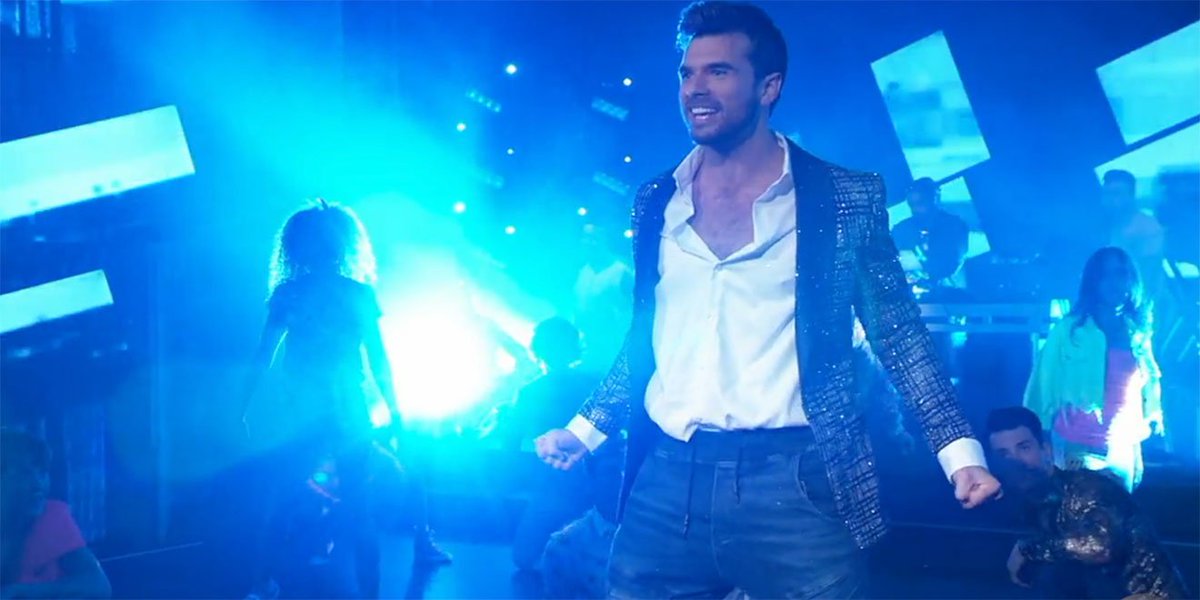 GH social media accounts teased: "After bringing down the house last year, we couldn't wait for you to see Chase's latest Nurses Ball number – so here it is! This is the only place you can watch his entire performance before it airs next week."
The 2019 Nurses Ball begins tomorrow on the Friday, May 17th episode of the ABC daytime drama series.
Now below watch Josh's performance and then let us know what you thought of it via the comment section below, and let us know who else do you hope performs at the ball!
A Friz Holiday Miracle On GH?
ABC and General Hospital released a promo for the week of December 9th which features Franco (Roger Howarth) undergoing the mind-mapping reversal procedure that would restore his memory from that of Drew Cain's back to Franco Baldwin.
But, as viewers saw on last Friday's cliffhanger, Peter (Wes Ramsey) is trying to stop Dr. Maddox (Anthony Montgomery) from performing the procedure on Franco by ordering a hit on him.
In the promo, Elizabeth (Rebecca Hersbt) waits by her husband's side hoping he will return to her and remember the love they share.  As well,  Cameron (William Lipton) prays with her that Franco will come back to them so they can be a family again in time for the holiday season.
Watch the teaser below.
Then, let us know if you are hoping Franco returns and that he is no longer Drew Cain in the comment section, or are you hoping for a different procedural outcome when he wakes up?
Paging Dr. Griffin Munro! Matt Cohen Makes A Return Visit To GH
Looks like a medical crisis will bring Matt Cohen (Griffin Munro) back to General Hospital today on Friday's episode and next week on upcoming episodes of the ABC daytime drama series.
In addition, we wonder if Cohen might appear in scenes with Maura West, who's Ava Jerome is checked into Shadybrook trying to deal with her emotional state, which unbeknownst to her is being caused by Nikolas Cassadine (Marcus Coloma).
As GH fans know, Cohen first came on to the GH scene back in 2016, but departed the series earlier in 2019.
Meanwhile, Matt has landed a gig on Entertainment Tonight as one of their correspondents and anchors while continuing to do directing, and acting projects.
What will bring Griffin back to Port Charles? Happy to see Matt again on GH? Comment below.
WATCH: Steve Burton & Bradford Anderson Take On Grammy-Nominated Hit 'Old Town Road' With A GH Twist
Leave it to the comedy of Stone Cold and the Jackal AKA Steve Burton (Jason, GH) and Bradford Anderson (Spinelli, GH) to come up with a hilarious send-up of one of the top music hits of 2019 in a viral video spoof!
In this just released video, Steve and Bradford do their twist on the hit by Lil NAS X and Billy Ray Cyrus, Old Town Road. That track by NAS X and Cyrus has been nominated for several awards in the upcoming Grammy Awards.
Needless to say, the video spoof contains many General Hospital references and some that include All My Children icon, Susan Lucci (Ex-Erica Kane)
Check out the viral video below.
Then, let us know what you thought of it via the comment section. We couldn't stop laughing!
Make sure to check out more on the Stone Cold and Jackal podcasts and appearances here.