Josh Swickard Performs The Chainsmokers & Coldplay's "Something Just Like This" In GH Nurses' Ball Sneak Peek
General Hospital is getting you ready for the GH Nurses' Ball 2019 edition, by releasing the full musical number performed by Port Charles' Harrison Chase AKA Josh Swickard during the gala.
As a prelude to the ball and what is to come, Swickard takes on the top hit made famous by The Chainsmokers and Coldplay, "Something Just Like This" along with the Nurses' Ball dancers.  And yes, there is cute moment for Chase/Willow (Katelyn MacMullan) fans when he brings Willow up to the stage!
Lucy Coe (Lynn Herring) introduces Chase before he performs and Lynn Herring took to her Twitter account yesterday when GH released this sneak peek stating: "Hey, how did this get out there before the BALL!! Someone has some 'splainin' to DO!"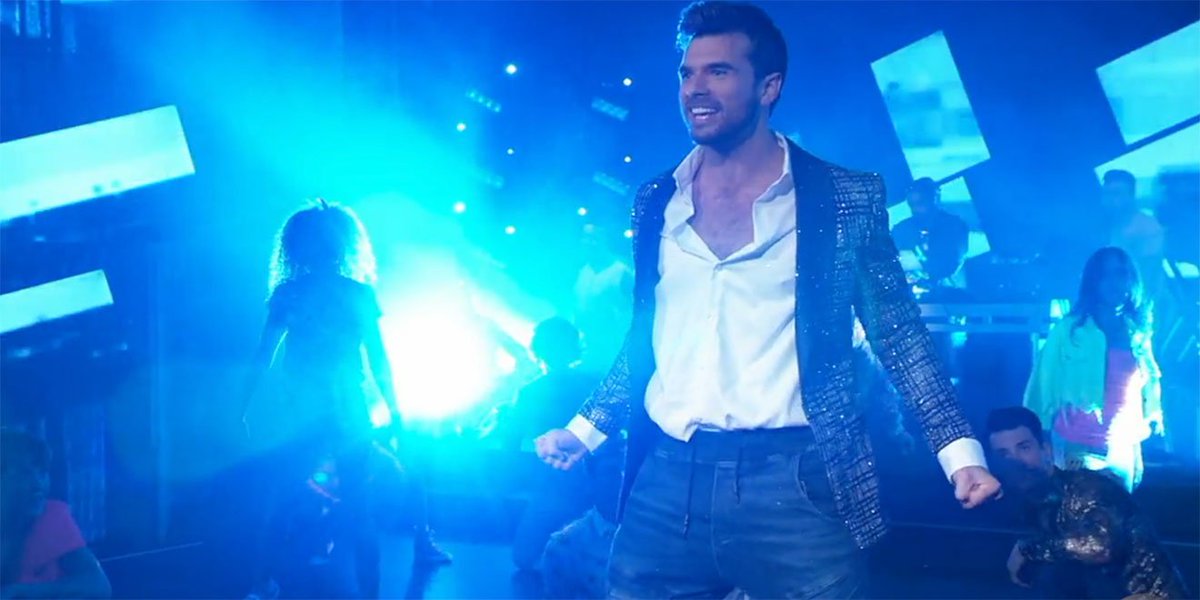 GH social media accounts teased: "After bringing down the house last year, we couldn't wait for you to see Chase's latest Nurses Ball number – so here it is! This is the only place you can watch his entire performance before it airs next week."
The 2019 Nurses Ball begins tomorrow on the Friday, May 17th episode of the ABC daytime drama series.
Now below watch Josh's performance and then let us know what you thought of it via the comment section below, and let us know who else do you hope performs at the ball!
General Hospital's Halloween Week Promo Touts Wicked Surprises
Looks like everyone will be on edge this week as Halloween comes to Port Charles.  In the newly-released ABC promo for General Hospital, it reveals that this spooky week of episodes will be a rollercoaster ride, featuring wicked surprises, and killer costumes.
After Epiphany (Sonya Eddy) scolds Franco (Roger Howarth) for having his hand in the candy jar, Anna (Finola Hughes) or is it? … is donning a black witches hat. Jackie (Kim Delaney) is seen opening her door, juxtaposed with Valentin (James Patrick Stuart) saying "trick or treat". But, is he actually at the door of someone else?
Nikolas (Marcus Coloma) asks Ava (Maura West), "Darling, what are you holding behind your back?" That is revealed to be a knife, but is it Ava who truly has the knife?
Meanwhile, Jason (Steve Burton) is looking around in the dark.  Elsewhere, Peter is jumpy.  So much so that Spinelli (Bradford Anderson) utters, "Looks like you've seen a ghost."
Add all that to last Friday's episode of GH where Carly(Laura Wright) thinks she saw Nelle's (Chloe Lanier) hand come out of her grave and attack her! Is Nelle (Chloe Lanier) going to be proven to be alive? And if so, will she pop up on Halloween and scare the hell out of Carly?
Watch the promo below, then let us know what you think will happen this week on General Hospital via the comment section.
ABC Previews General Hospital's Halloween Episode
Fight Night will definitely have an impact on the lives of the citizens of Port Charles, on the upcoming Thursday, October 29th episode of the ABC daytime drama series.
Announced by ABC today, along with primetime's Dancing with the Stars, The Conners, Supermarket Sweep, and America's Funniest Home Videos, GH is having some ghoulish goings-on for the trick or treat holiday.
According to the GH preview: "As an impending storm approaches Port Charles, Trina and Joss decide to meet up with Cameron and Dev at Charlies before heading off to a Halloween party for the night. Unbeknownst to them, Julian notices the kids are being watched a little too closely by a masked individual. Uneasy and unable to shake the feeling that something is off, Julian confronts the man. Meanwhile, Carly is stunned when Cyrus brings a familiar acquaintance to dinner at the Metro Court. And elsewhere, Finn and Anna's plans to take Violet trick-or-treating are hampered when Finn is called back to GH, leaving Anna alone, unaware that a particularly evil threat awaits her."
So, excited to see what goes down on Halloween on GH? Comment below.
GH's Ingo Rademacher Shares Insight With His Son On Parenting & Anger On Maurice Benard's "State of Mind"
Maurice Benard has brought his State of Mind  to You Tube, and his guest for this week is none other than Sonny Corinthos' longtime nemesis Jasper Jacks, Ingo Rademacher.
Rademacher decided to appear on State of Mind along with his son, Peanut, to talk about the incidents of parenting and anger when raising his children, and the effects discipline can have on the kids.
There are some very emotional moments within the segment, as Peanut opens up about his feelings when his dad was upset with him and how he dealt with  it
Ingo also shares how over the past few years his relationship with his son has approved, while Maurice offers key moments from his past with his father and his own son.
Per Maurice on the concept behind the show and his ongoing website: "State of Mind to me means being 100% present, feeling completely at peace inside of you, not letting your thoughts control your life and always looking for ways to be the best that you can be."
Watch Ingo, Maurice and Peanut below and then let us know what you thought about this heartfelt conversation via the comment section below.