Josh Swickard Performs The Chainsmokers & Coldplay's "Something Just Like This" In GH Nurses' Ball Sneak Peek
General Hospital is getting you ready for the GH Nurses' Ball 2019 edition, by releasing the full musical number performed by Port Charles' Harrison Chase AKA Josh Swickard during the gala.
As a prelude to the ball and what is to come, Swickard takes on the top hit made famous by The Chainsmokers and Coldplay, "Something Just Like This" along with the Nurses' Ball dancers.  And yes, there is cute moment for Chase/Willow (Katelyn MacMullan) fans when he brings Willow up to the stage!
Lucy Coe (Lynn Herring) introduces Chase before he performs and Lynn Herring took to her Twitter account yesterday when GH released this sneak peek stating: "Hey, how did this get out there before the BALL!! Someone has some 'splainin' to DO!"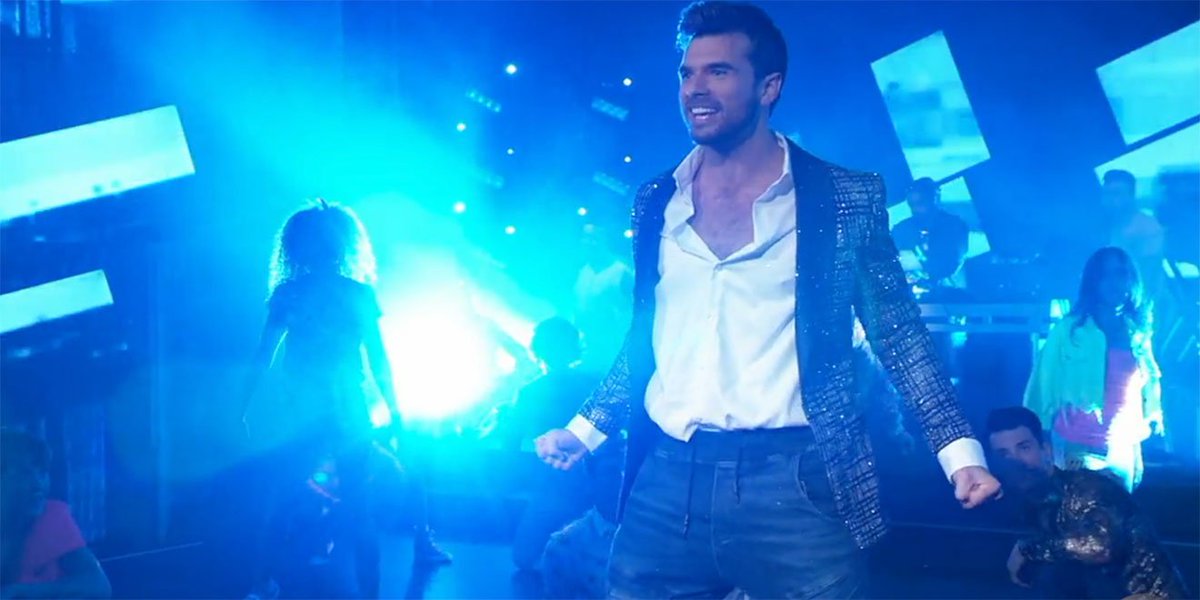 GH social media accounts teased: "After bringing down the house last year, we couldn't wait for you to see Chase's latest Nurses Ball number – so here it is! This is the only place you can watch his entire performance before it airs next week."
The 2019 Nurses Ball begins tomorrow on the Friday, May 17th episode of the ABC daytime drama series.
Now below watch Josh's performance and then let us know what you thought of it via the comment section below, and let us know who else do you hope performs at the ball!
GH's Kathleen Gati on Liesl Learning Britt is Sick: "This Was the Most Painful and Profound Episode I Have Filmed in 10 Years"
This week in a preview of a heartbreaking episode of General Hospital, Liesl (Kathleen Gati) will learn her daughter, Britt (Kelly Thiebaud), now has developed symptoms of Huntington's Disease and its progression is making Dr. Westbourne very sick.
In story, look for Britt to confide in her mother, noting that that the disease is beginning to overtake her body.
Liesl's portrayer, Kathleen Gati shared with Soap Opera Digest (in their latest issue on newsstand now), just how mutter will react to the news.
Gati expressed: "I have to say this is the most painful and profound episode I have filmed in 10 years."  Kathleen has played the role of Dr, Liesl Obrecht since 2012.
She goes on to say, "Liesl puts her doctors hat on to give hope to herself and to Britta, encouraging her that they are both well-trained doctors and can find a way to help Britta."
However, that's not what Britt wants to hear.  She needs her mother, and the support and comfort from her, at this devastating time in her life.
Kathleen shares it's at that point that Liesl realizes she needs to stop all the medical talk and just be there for her daughter.
So, are you looking forward to the scenes between Britt and Liesl?  Share your thoughts in the comment section below.
GH's Marcus Coloma Reveals COVID Kept Him Out of Episodes But Returns On-Air Next Week
Viewers who have been watching this week's episodes of General Hospital have seen Adam Huss stepping-in for a second for Marcus Coloma in the role of Nikolas Cassadine.
Many fans wanted to know what caused the temporary switcheroo.  Now, Coloma has taken to his Instagram doing a little dance and revealing the nature of why he was away and when he will be back.
Marcus shared in the video: "Why Aren't You GH?  Got Covid a month ago.  I'm coming back for you, baby. Next Week"
In the accompanying post, the actor expressed: "So here's the deal.  Thank you for all the lovely love.  I should be back on the screen next week."
Coloma has played the role of Nikolas Cassadine since October 31st, 2019.
Glad to know Marcus is feeling better and on his way back to Port Charles? Comment below.
View this post on Instagram
Robin Mattson Shares Why She Didn't Return as GH's Heather Webber
In late October, General Hospital fans were in for a shock when the character of Heather Webber returned to the canvas, in the form of ex-B&B star, Alley Mills.  Many viewers wondered why the previous Heather, soap vet Robin Mattson, did not return to tape new episodes.
Late last week, Mattson shared via her Facebook page an explantation as to why she was unable and unavailable to reprise her signature role on the ABC daytime drama series.  Robin revealed she is recovering from knee surgery and will soon undergo hip replacement surgery.
Mattson's full post expressed: "As nice as is to be missed and so many of you have wondered what happened to me, I just want to let you know that I've been recovering from my knee surgery and today I'm going to have hip replacement surgery. Thank you all for your love and support! Looking forward to a fast recovery! Love Robin ❤"
Robin is the third actress to play the role of Heather.  She came on to GH back in 1980.  Later, she exited to play Gina on Santa Barbara and Janet on All My Children, and also had stints as B&B's Sugar, ATWT's Cheri, DAYS Lee Michaels, and even Delia on Ryan's Hope.  The actress also continued to play GH's Heather on and off through 2016.
So, glad to hear from Robin? Enjoying Alley Mills as Heather? Send your well-wishes and a speedy recovery to Robin via the comment section below.