Josh Swickard Performs The Chainsmokers & Coldplay's "Something Just Like This" In GH Nurses' Ball Sneak Peek
General Hospital is getting you ready for the GH Nurses' Ball 2019 edition, by releasing the full musical number performed by Port Charles' Harrison Chase AKA Josh Swickard during the gala.
As a prelude to the ball and what is to come, Swickard takes on the top hit made famous by The Chainsmokers and Coldplay, "Something Just Like This" along with the Nurses' Ball dancers.  And yes, there is cute moment for Chase/Willow (Katelyn MacMullan) fans when he brings Willow up to the stage!
Lucy Coe (Lynn Herring) introduces Chase before he performs and Lynn Herring took to her Twitter account yesterday when GH released this sneak peek stating: "Hey, how did this get out there before the BALL!! Someone has some 'splainin' to DO!"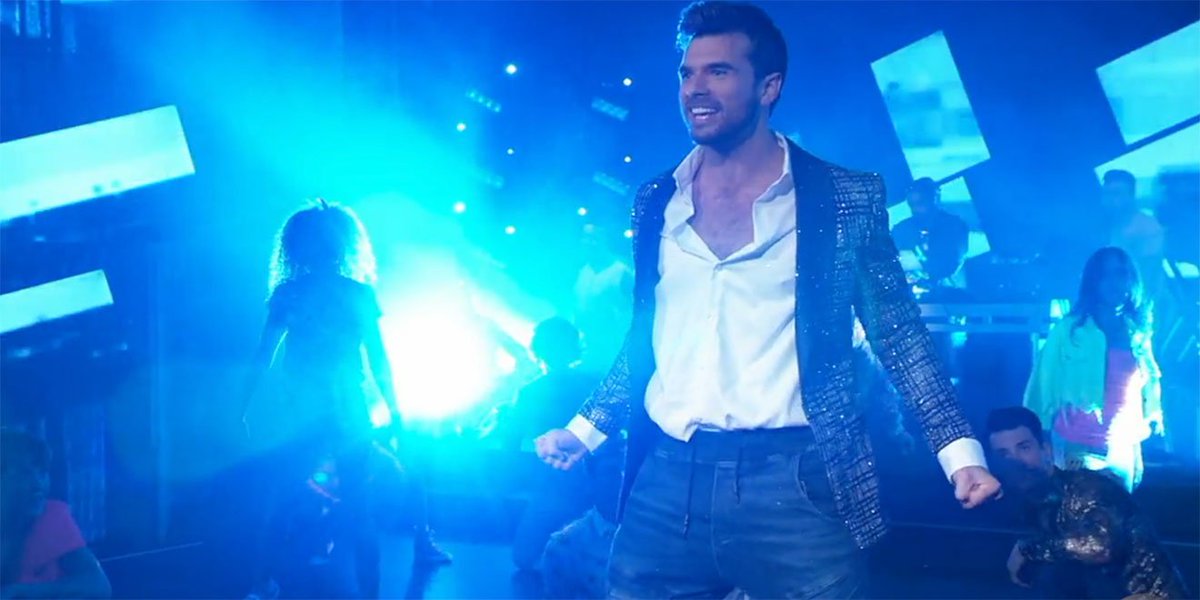 GH social media accounts teased: "After bringing down the house last year, we couldn't wait for you to see Chase's latest Nurses Ball number – so here it is! This is the only place you can watch his entire performance before it airs next week."
The 2019 Nurses Ball begins tomorrow on the Friday, May 17th episode of the ABC daytime drama series.
Now below watch Josh's performance and then let us know what you thought of it via the comment section below, and let us know who else do you hope performs at the ball!
(WATCH) GH's Genie Francis Shares: "I Just Have a Hard Time Believing, In My Heart, That The Great Luke Spencer Died in an Accident"
Today's Friday episode of General Hospital, is set to feature the funeral of the iconic Luke Spencer (Tony Geary).
While family and friends will gather on the Haunted Star to memorialize him, what been teased by the ABC daytime drama is it will also set a whole storyline in motion.
ABC7 entertainment guru, George Pennacchio, spoke to several of the GH cast, who are involved in the episode including: Luke Spencer's long-time love, Laura played by Genie Francis.
Francis exclaimed on the whole story: "I just have a hard time believing, in my heart, that the great Luke Spencer died in an accident.  No one stays dead on a soap. I don't know how many times I've been dead. Really!"
Genie added: "I feel like they're setting the stage, really, for a wonderful comeback and I'm going to keep my fingers crossed for that."
Luke's longtime friend played by Tristan Rogers (Robert Scorpio) shared: "And has it actually happened? I mean, frankly, we have a little urn about this big that's supposed to contain him and that's it."
And Luke's sister, Bobbie, played by Jackie Zeman, also weighed-in if Luke is really a-goner: "Sometimes you get these little red herrings so, as you know, George, you know, you never really know."
Watch Pennacchio chat with the GH stars below.
Now weigh-in, do you believe Luke is very much alive and well? Held captive, or "dead" dead? Share your thoughts in the comment section.
FRIDAY: Luke Spencer's Family and Friends Gather To Say Goodbye On General Hospital
On this Friday's, January 21st episode of ABC's General Hospital, look for Port Charles to bid farewell to the iconic character of Luke Spencer (Tony Geary).
In story, after his sudden passing, Luke's loved ones gather – along with some surprise guests – to memorialize him at the Haunted Star, where things don't go entirely as planned.  As the town says goodbye to Luke, an exciting new mystery unfolds.  Meanwhile, life continues to unravel for the rest of Port Charles as a beloved couple comes to a fork in the road of their relationship.
ABC released this new photo of those gathered to pay their respects to Luke including cast members: Kristina Wagner (Felicia), Finola Hughes (Anna), Donnell Turner (Curtis), Tristan Rogers (Robert), Dominic Zamprogna (Dante), Laura Wright (Carly), Maurice Benard (Sonny), Nicholas Alexander Chavez (Spencer), Marcus Coloma (Nikolas), Maura West (Ava), Jackie Zeman (Bobbie), Nancy Lee Grahn (Alexis), Genie Francis (Laura) and Jane Elliot (Tracy).
Looking forward to this emotional episode of General Hospital? Share your thoughts on what you think will happen via the comment section below.
ESPN Sports Personality and 'General Hospital' Guest Star, Stephen A. Smith Reveals COVID-19 Nearly Took His Life
In a harrowing account of coming down with Covid-19, ESPN's Stephen A. Smith, who also has a recurring role on General Hospital as Brick, revealed his battle over the holidays that led to him being hospitalized because of the severity of his symptoms.
On Monday, Smith returned to his co-hosting gig on ESPN's First Take and it was there he shared what happened during his breakthrough case of Covid.  Stephen had been fully vaccinated. Smith said that he had tested positive late in December and wound up in the hospital with pneumonia in both lungs over New Years.
Stephen A. discussed the details, expressing:  "I had 103 degree fever every night. Woke up with chills and a pool of sweat. Headaches were massive. Coughing profusely. And it got to a point where right before New Year's Eve, I was in the hospital into New Year's Day. That's how I brought in the New Year."
He went on to say about contracting Covid-19: "For me personally, it hit me differently. (Doctors) told me, had I not been vaccinated, I wouldn't be here. That's how bad I was. I had pneumonia in both lungs. My liver was bad, and it ravaged me to the point where even now I have to monitor my volume, get to the gym every day … I'm still not 100% with my lungs, but I'm Covid negative … I'm on the road to recovery."
On a happier note, Smith shared how glad he was to be back at work after testing negative: "I'm ecstatic to be back. I've missed being at work. I've used more sick days in the last month than I've used in my 28-year career in this business.  And I can't tell you how lucky and sincerely blessed I am to be sitting here with you guys today because two-and-a-half, three weeks ago, I didn't know if I was gonna make it."
So, glad to know Stephen A. is on the mend from a very scary bout with Covid? Share your thoughts in the comment section
"And they told me had I not been vaccinated, I wouldn't be here. That's how bad I was."

— ESPN's @stephenasmith details his recent, nearly fatal battle with COVID pic.twitter.com/jtkZV62RIA

— The Recount (@therecount) January 18, 2022