Josh Swickard Performs The Chainsmokers & Coldplay's "Something Just Like This" In GH Nurses' Ball Sneak Peek
General Hospital is getting you ready for the GH Nurses' Ball 2019 edition, by releasing the full musical number performed by Port Charles' Harrison Chase AKA Josh Swickard during the gala.
As a prelude to the ball and what is to come, Swickard takes on the top hit made famous by The Chainsmokers and Coldplay, "Something Just Like This" along with the Nurses' Ball dancers.  And yes, there is cute moment for Chase/Willow (Katelyn MacMullan) fans when he brings Willow up to the stage!
Lucy Coe (Lynn Herring) introduces Chase before he performs and Lynn Herring took to her Twitter account yesterday when GH released this sneak peek stating: "Hey, how did this get out there before the BALL!! Someone has some 'splainin' to DO!"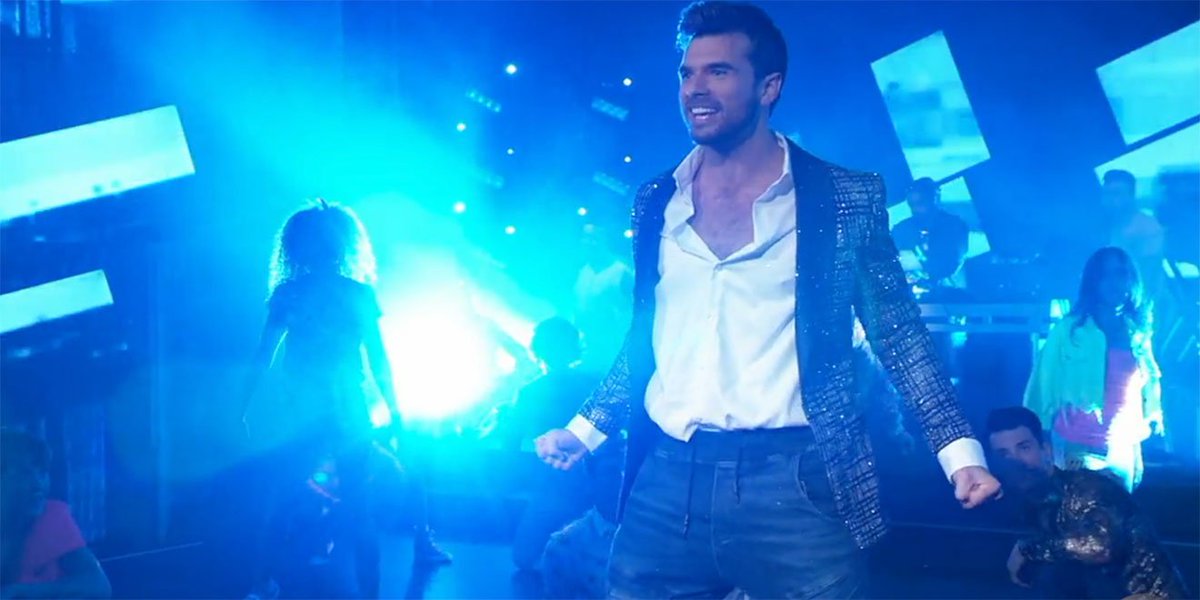 GH social media accounts teased: "After bringing down the house last year, we couldn't wait for you to see Chase's latest Nurses Ball number – so here it is! This is the only place you can watch his entire performance before it airs next week."
The 2019 Nurses Ball begins tomorrow on the Friday, May 17th episode of the ABC daytime drama series.
Now below watch Josh's performance and then let us know what you thought of it via the comment section below, and let us know who else do you hope performs at the ball!
Katelyn MacMullen Celebrates 1 Year Anniversary On GH; Now, What Will Happen When Willow Finds Out The Truth About Wiley?
Since Willow (Katelyn MacMullen) first appeared on the General Hospital canvas as the school teacher who needed to let Charlotte's (Scarlett Fernandez) parents (Valentin, Nina and Lulu) know of her bullying tactic sat school, the character has become quite intertwined to others in Port Charles.
We eventually learned that Willow shared a dark past with the late Shiloh (Coby Ryan McLaughlin), and even had his child, but never told him about it.  Later, Willow seem to get the attention of two young gentlemen; Michael Corinthos (Chad Duell) and Harrison Chase (Josh Swickard).
As of now, Chase and Willow look to be quite the happy couple.  But, what will happen when Willow learns the devastating truth- that the little boy she gave up -that is being raised by Brad (Parry Shen) and Lucas (Ryan Carnes) isn't really hers.  In fact, her son died when Brad took Nelle's (Chloe Lanier) baby to replace the baby that died.
In a post on her Instagram, Katelyn MacMullen shared that it's hard to believe a year has past since her debut on the ABC soap opera expressing gratitude: "It's been a year since I've joined this incredible cast! I love this show so much, and every single person involved. I'm so grateful 🖤 It's been a pretty crazy ride for Willow so far, and I've enjoyed every second of it 🌚 Thank you @generalhospitalabc !! 🙏 #GH #oneyearanniversary"
Now the questions become:  What will happen when Willow learns the truth about Wiley? Will it draw her and the child's real bio-dad, Michael C. closer? Share your theories on what's to come and congratulate Katelyn for one-year in Port Charles.
Chloe Lanier's New Short Film 'The Reveal' Releases First Trailer
As previously reported, Chloe Lanier, the actress who plays naughty Nelle Benson on ABC's General Hospital, has been busy at work on a special project. And while Nelle is upset having just been denied parole on the ABC soap opera, (something tells us nothing will stop her from getting out of the slammer), Lanier on the other hand has been very excited about her new short film, The Reveal.
The Reveal in which Lanier stars, co-wrote, and co-directed along with her boyfriend, Kevan McClellan also has some very familiar faces along for the ride from Port Charles and Genoa City. That's because Brytni Sarpy (Elena, Y&R) and Josh Swickard (Chase, GH) are also part of the film.
The action takes place at a gender reveal party for a baby, and according to the loglines of the short: "Zoe and James are a young couple attending their new-age friends gender reveal party. As they attempt to find their place amongst the eclectic group of party guests and friends, unsung wishes and hidden resentments begin to surface within their relationship."
Watch the trailer from Lanier below.
Then, let us know if you are intrigued to see the short film when its out via the comment section below.
The Reveal-Trailer from Chloe Lanier on Vimeo.
WATCH: Jonathan Jackson + Enation's New Music Video "The Days Are Evil"
Five-time Daytime Emmy winner from General Hospital, and former Nashville star, Jonathan Jackson (Ex-Lucky, Ex-Avery) has released a new music video for the new single "The Days Are Evil" along with his band Enation.
The music video features shots of Jackson in a very dark incarnation, and the track will also appear on Jackson + Enation's upcoming album due out later this fall, Ultraviolet Empire.
Jonathan says of the new album: "Our new album, Ultraviolet Empire, is a throwback record. It's a record we played together live in the studio. Most of the songs are one take -just letting the band play.  It was amazing playing with our co-producer Colin Linden and capturing something so raw and visceral."
This will be the band's follow-up to their 2017 album  Anthems for the Apocalypse and their successful 2018 tour in Europe opening for Echo & The Bunnymen,
Check out the music video featuring Jonathan released this week below.
Then, let us know, should Lucky return to Port Charles for the Nurses' Ball with his band and play a tune off the new album next spring? Will Jonathan come home to GH for a guest appearance? Will you be checking out the new music from him in the coming months? Comment below.