The Jonathan Jackson Interview – General Hospital
Last week On-Air On-Soaps brought you Greg Vaughan's bittersweet exit interview from his role as Lucky Spencer on General Hospital. And this week, we bring you Jonathan Jackson's entrance interview for his much talked about return to GH after more than ten years in the role of Lucky Spencer. In what has been the soap switcheroo of the year, GH made the decision to change course with the character of Lucky, and the timing was right for three-time Daytime Emmy winner Jonathan Jackson to step back into the soaps.
Jonathan's highly anticipated return happened on yesterday's episode. His triumphant re-emergence and reintegration into the lives of Luke, Elizabeth and Nikolas starts this week and will carry on through November sweeps and then some! I had the opportunity to chat with Jonathan yesterday on the set of GH to set the record straight on: what went down behind the scenes that facilitated his return and Vaughan's exit, what is the next beat in the Lucky/Elizabeth/Nikolas storyline, how he decided to come back for the opportunity to work with Tony Geary (Luke) and would love to work again with Genie Francis (Laura), and what superstardom was like at age ten playing the son of daytime's most recognizable super couple.
Without further adieu…the original 'cowboy'….Jonathan Jackson!
Listen to the audio:

[display_podcast]

MICHAEL:

You're back on General Hospital! We heard and read things, but tell me in your own words how it came about that you came back to GH to reprise the role of Lucky Spencer?

JONATHAN:

It's been ten years and it was a fast thing from my end. I was up in Washington state and working in different capacities, flying all over for films and doing different projects, and ABC called up out of the blue and said, "The role of Lucky is opening up again and would you be interested in coming back?" I thought about it and thought this could be interesting, because it had been ten years. I talked to my family, and I felt like it might be a fun thing to do.

MICHAEL:

How long have you been back taping at GH?

JONATHAN:

I have been back about 3 weeks.

MICHAEL:

When you got back to your old digs at the studio, and got into the rhythm of how daytime soaps are done, did it feel like getting on and riding a bike?

JONATHAN:

The best way to describe it is; it feels like a paradox …very familiar, yet brand new. So, tons of people I knew are here, but there are a ton of new faces as well. So I am still learning names. They move now a little quicker than they used to, it was quick before, but it's even faster now. But all in all, it's been pretty smooth. In terms of working with the actors, it seems really fluid.

MICHAEL:

Had you stayed in touch with Becky Herbst (Liz)?

JONATHAN:

We got in contact here and there over the years, like when I got married. I think I saw Becky on my first day back, and it has been 10 years since I saw her! It was fun to catch up. Working with Tony Geary and Tyler Christopher (Nikolas) again has been just awesome.

MICHAEL:

I fondly remember the arguments between brothers Lucky and Nikolas, and one where you guys toppled down a flight of stairs!

JONATHAN:

I was a kid and Tyler was a little older. We had some good physical fights early on, and I liked that. I remember that.

MICHAEL:

So, you and Tony Geary had discussions of your returning to the role of Lucky?

JONATHAN:

We only talked after the fact of everything transitioning in terms of the character of Lucky, and that there was an opening again, and for me to come back. We kept in touch over the years. I have wanted to work with Tony again in any capacity, whether that was theatre or film or back here at GH. I am just excited to work with him in some capacity.

MICHAEL:

Will Luke be calling Lucky "cowboy" again?

JONATHAN:

I think he already did.

MICHAEL:

Genie Francis said in a recent interview in Soap Opera Weekly that she is thrilled you are back. How do you feel now about Genie, and do you wish she was here with you?

JONATHAN:

Well, yeah I would love to work with Genie again. She is an amazing actress and person. I grew up working with her and Tony, so there is a real connection there. If that were to happen, to work with both of them again, that would be pretty great.

MICHAEL:

Did you ever watch GH, or get a glimpse at it, while you were away from the show? Did you ever see Greg Vaughan's or Jacob Young's interpretation of Lucky Spencer?

JONATHAN:

Being honest, my personality is such that if I am not on it then I am on to something else I am working on. In retrospect I am glad, because coming back right now I don't have any other vision or version of Lucky then what I was doing. Ten years ago growing up on this show is all I had in my head, and as an actor it's nice to not have to battle the other versions that were going on. I heard a lot of great things about both Greg Vaughan and Jacob Young, but it's a different sort of thing for me because I started in the role when I was ten years old.

MICHAEL:

Where are your three Daytime Emmys?

JONATHAN:

My Emmys are up north. They were in boxes for the last six years. I just pulled them out last year, because my parents were moving and they were in boxes, and my friend said "you should put them out," and I said, "OK, I will put them up!"

MICHAEL:

Do you remember the night you won your first Daytime Emmy back in 1995?

JONATHAN:

I do remember winning the first one, and that was so special because Tony and Genie presented it to me. That was exciting! I was twelve years old and I remember getting up on stage and looking out and feeling, "What am I doing here?" I grew up in a small town, and within three months of being in LA I booked the part of Lucky on GH. A year later I was standing up on that stage and it was emotional, because it was so overwhelming.

MICHAEL:

So Lucky has transitioned from a cop to a detective?

JONATHAN:

Yes. I am now a detective, which is more exciting. There have been some fun scenes already with Steve Burton (Jason) that I have been able to do, and he is so fun to work with. I mean, we did not get to work too much together when I was younger, but we are pretty good friends.

MICHAEL:

Will there be more of Lucky and Jason?

JONATHAN:

I think so. Just the nature of Lucky being a detective now, sort of gives the character freedom to roam into different storylines, which is cool.

MICHAEL:

I am worried about him becoming hooked on drugs again!

JONATHAN:

You know, they have not told me anything. I would love playing something meaty like a strung out drug addict!

MICHAEL:

I mean, you wouldn't be back if there was not a major emotional story for Lucky?

JONATHAN:

Oh, yeah! There is going to be great intense material. I don't know long term, but I do know what the audience knows in terms of Elizabeth and Nikolas. There are only certain limited places they can go, and that will get intense at some point. I look at that as a set- up, where it can go anywhere… and the relationship between Lucky and Luke. Tony and I have had some great scenes that feel like re-establishing something. Again, I did not watch the other versions of Lucky, but for me it's picking up where I left off ten years ago, but now as an adult. There is a lot of interesting chemistry going on there. Then there is Ethan. I have only had some group scenes with him, and there is a lot of potential for story there…and again, with him being a con man and Lucky being a detective. Lucky is Luke's son, so he has a dangerous side to him that could potentially take him either way, when it comes to that stuff.

MICHAEL:

Have you worked with Luke's new wife, Tracy Quartermaine… the amazing Jane Eliot? I know there must be some snarky Tracy/Lucky scene hopefully down the line.

JONATHAN:

I don't think I have worked with her yet, but I met her and she is sweet.

MICHAEL:

You and your wife, Lisa Vultaggio (Ex-Hannah GH) met here at GH but never acted together. How did the two of you become a couple?

JONATHAN:

We crossed paths in the hallway of GH.
I was leaving the show and she was coming on to the show. I think it was around 1999. We said, "Hi" to each other a few times, but we had more of a conversation at the Emmys. I think it
was the 1998-1999 Emmys, but we still did not get to know each other until we were off the show. She got to know my family and friends, and she started coming to Bible study that we had at
our house. That was where the friendship grew. I knew her for two and half years in those circles, and then we developed
a friendship. After about two and half years we got engaged.

MICHAEL:

And you're a daddy!

JONATHAN:

I have two kids: a boy and a girl. Caleb is six and Adora is four. I always felt I was going to be a young dad and I don't know if it's because my parents had kids when they were fairly young, but I was excited about it. It has exceeded all my expectations. It's a lot of work, but it is great.

MICHAEL

Will you be moving to Los Angeles with the family, or commuting back and forth to Washington State?

JONATHAN:

You know, when I lived in Washington I still worked here in LA. So I will be commuting more now regularly, but I will still be going up north. I feel both are home…. LA and Washington.

MICHAEL:

If you were writing the show, and not Bob Guza (head writer, GH), what would you love to see happen to Lucky?

JONATHAN:

That's a great question.
In some ways I have not allowed myself to think that way with a lot of freedom, because I don't write for
the show. I don't know… just explore all the intensities that Lucky has.
I am excited about all the tension of him being Luke and Laura's son, which is what I think is exciting to me about Lucky. He has this wildness and danger of Luke, but he has this purity of Laura, and there is always the contradiction with him. So I always feel like you can take those things to the extremes, and whatever is going to happen between Lucky and Elizabeth is going to be fascinating to me. Building that whole romance years ago and seeing the audience's connection with it, and it is such a pure love story, but it's hard right now. Becky and I are tapping into some of those roots that they have, but also you are dealing with ten years of story that they had. So, I am curious how that is going to go down. Sure, drug addictions….

MICHAEL:

Yeah, drug addictions! I am all for that, anything that puts you in misery I am all for. (Laughs) Greg Vaughan was let-go to pave the way for your return. How does that make you feel? Is it bittersweet in some way?

JONATHAN:

For me, it was a tough situation. I was not under any sort of headspace that someone was losing their job; it was that the role was opening up. So I was going to be able to come back into it. It sort of has been confusing how things have been getting out there. I think I met Greg once or twice, and for what I know, he is an absolutely amazing person. So obviously, that is not a very fun angle for me. I wish him the best and that part of this has not been very fun. But it was more of a confusing thing for me coming back and not knowing exactly what was going on, on the other end of things.

MICHAEL:

Do you feel the pressure from the network and the show, that high expectations are put on you to drive ratings up for the show with your return, and that your caliber of work must be at such a high level to justify them bringing you back?

JONATHAN:

No, actually I don't. Part of that is I kept my headspace out of the whole thing. I have not watched the show for ten years and so I am not in that realm of it. I think also it was a blessing coming in at ten years old as Luke and Laura's son. That was the biggest thing in daytime soaps you could possibly be thrown into, and I was too young to understand it, which was great. I would have people coming up to me going, "Do you have any idea? Do you have any idea?" and I would say, "No I don't." But for me, I was working with this person named Tony and this person named Genie. They are the best people I ever met and they are incredible. I just grew up working and focusing on all the acting and all of that. Coming back feels like a similar thing. You know, I was doing The Sarah Connor Chronicles recently and I was playing Kyle Reese, which was an iconic character from the Terminator films, and it was sort of like the same issue: "How do you fill those shoes?" You don't. The films are the films and you are not going to fill in Michael Biehn's take on the character. He made the role. So you focus on putting your own spin on it. For me, I am just really focusing on what is happening right now. I do feel people are excited to have me back as Lucky and to see what that is.

MICHAEL:

James Franco is coming to GH! Will you get to work with him?

JONATHAN:

Yeah, I will have a chance to work with him and I am excited about it. I have seen his work and he is great.

MICHAEL:

If we were to give a good closing teaser for Lucky's return and upcoming story, what would you say to your fans?

JONATHAN:

Look forward to Lucky finding out about Nikolas and Elizabeth. I am sure that is going to happen, but I don't know when. But when it does it's going to be very intense, I am sure.
GH Nurses' Ball 2019 Part One: Nina's Red Carpet Arrival Commentary And Locking Eyes With Jax
On Friday's first installment of the 2019 GH Nurses' Ball episodes, it was red carpet time in Port Charles as all of the most famous and infamous residents got dressed to the nines and to impress.
This year, Nina Cassadine (Michelle Stafford) is back for her on-camera hosting duties covering the arrivals on the live-stream, but is joined by Crimson's New York fashion editor, Sydney Val Jean played by guest star Chandra Wilson of Grey's Anatomy.  And as you'd expect, these two fashionistas battle it out at times on the carpet for attention.
Throughout the arrivals, and through this episode, this one really belonged to the talents of Michelle Stafford, who through her comedic, romantic, and dramatic timing, made for some of the best moments.  In a surprise, when Nina begins to choke after interviewing Peter (Wes Ramsey), Maxie (Kirsten Storms) and Lulu (Emme Rylan),  she excuses herself and ends up outside where Jax (Ingo Rademacher) appears and offers her some champagne.  The two seem to be clearly smitten with each other! Nina accepts his drink, and thanks him, and then goes back inside to her hosting gig, while Jax looks very intrigued by Nina.  Previously, Nina gave a major kiss to Valentin (James Patrick Stuart) when he appeared on the red carpet.
Some of the more shocking …. or interesting red carpet arrivals included: Shiloh (Coby Ryan McLaughlin) showing up with Sam (Kelly Monaco) on his arm, and then getting into words with Sonny (Maurice Benard), who tells the cult leader that family means everything to him and that there is nothing he wouldn't do for the people he loves.  Shiloh is convinced Kristina (Lexi Ainsworth) will come back to "Dawn of Day".
When Anna (Finola Hughes) and Finn (Michael Easton) stroll down the red carpet, they get distracted when a dapper Robert Scorpio (Tristan Rogers) shows up, clearly intent on wooing back Anna, to which Anna looks caught by her feelings for both men while Finn is pissed at the game's Robert is playing.  Later, Finn confronts Robert about his ring.
Everyone was shocked when Kevin Collins (Jon Lindstrom) showed up arm and arm with Ava Jerome (Maura West).  We later learn that this is an attempt to smoke out Ryan, who Ava believes will show his face at the ball.   Lucy (Lynn Herring), the hostess with the mostess, comes up with a plan to get Kevin away from Ava, not knowing they are not romantically together and tries to, perhaps, rekindle their romance up in a Metro Court hotel room.  Meanwhile, Scott (Kin Shriner) wants to get Ava away from Kevin, so he heads up to Lucy's room with Ava to show her and to catch Kevin and Lucy together, but we don't know what they saw when the door opened!
Meanwhile in Toronto, Canada, Curtis (Donnell Turner) and Laura (Genie Francis) come to realizing they have been tied up and there is a gas leak in the cabin.  Laura realizes Ryan is trying to kill her in an explosion just as he was supposed to have perished in at the fun house years ago.  It appears Ryan set a trap for Laura and Curtis and fled the scene.  The two extricate themselves before running from the cabin just as it blows up!
Back at the ball other notable couples have arrived from: Chase (Josh Swickard) and Willow (Katelyn MacMullen), to Michael (Chad Duell) and Sasha (Sofia Mattson), to Franco (Roger Howarth) and Liz (Rebecca Herbst), to the GH nurses crew.
The episode ends with an announcer telling all the guests to take their seats as its just about showtime!  And of note:  Is the opening title sequence music changed to a new theme for GH, or is it just for the Nurses' Ball episodes? That's one of the buzziest questions today.
So, what did you think of the red carpet arrivals?  Michelle Stafford's performance?  Jax meeting Nina? What do you think will happen next with Ryan?  Comment below
Josh Swickard Performs The Chainsmokers & Coldplay's "Something Just Like This" In GH Nurses' Ball Sneak Peek
General Hospital is getting you ready for the GH Nurses' Ball 2019 edition, by releasing the full musical number performed by Port Charles' Harrison Chase AKA Josh Swickard during the gala.
As a prelude to the ball and what is to come, Swickard takes on the top hit made famous by The Chainsmokers and Coldplay, "Something Just Like This" along with the Nurses' Ball dancers.  And yes, there is cute moment for Chase/Willow (Katelyn MacMullan) fans when he brings Willow up to the stage!
Lucy Coe (Lynn Herring) introduces Chase before he performs and Lynn Herring took to her Twitter account yesterday when GH released this sneak peek stating: "Hey, how did this get out there before the BALL!! Someone has some 'splainin' to DO!"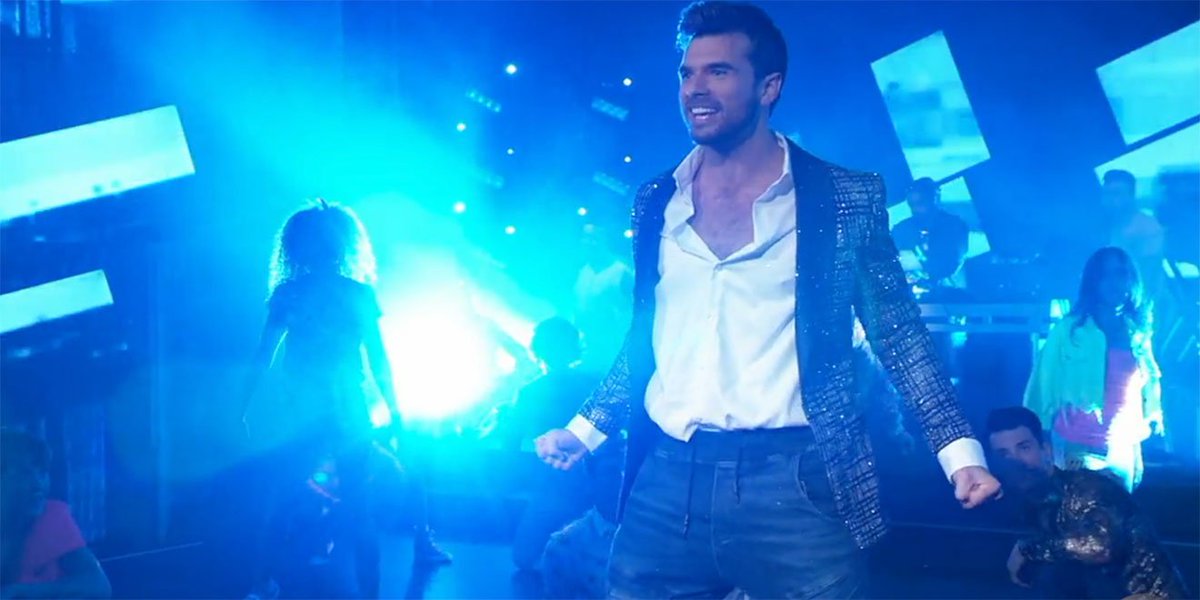 GH social media accounts teased: "After bringing down the house last year, we couldn't wait for you to see Chase's latest Nurses Ball number – so here it is! This is the only place you can watch his entire performance before it airs next week."
The 2019 Nurses Ball begins tomorrow on the Friday, May 17th episode of the ABC daytime drama series.
Now below watch Josh's performance and then let us know what you thought of it via the comment section below, and let us know who else do you hope performs at the ball!
GENERAL HOSPITAL: Oscar's Memorial Brings With It Remembrances By Those Who Loved Him
On Monday's emotional episode of General Hospital, Ned (Wally Kurth) and Olivia (Lisa LoCicero) summoned family, friends, and loved ones to honor Oscar Nero (Garren Stitt), since he just past away due to his battle with brain cancer.  Oscar had his own way he wanted everyone to mourn his death and Ned and Olivia carried out his wishes.
When everyone gathers together, Ned and Olivia announce that Oscar wanted this to be a celebration.  After everyone arrives they sit picnic-style and some get up to speak to remember the amazing young man that Oscar was.  It turns out to be Michael (Chad Duell) who starts the tribute by saying that Oscar was brave to date his intimidating sister.  Next, Cameron (William Lipton) touches on his journey to friendship with Oscar.  Joss (Eden McCoy) finds the courage to go next and remembers how she had a crush on Oscar and how he wasn't easy to talk to but how she was intrigued because he was mysterious. She then tells show she eventually fell in love with Oscar, and how she will never forget him.  When Drew (Billy Miller) gets up next, he breaks everyone's heart by stating that he will be eternally grateful to have known his son and will always carry him in his heart.
Next, Ned asks everyone to follow him to the meadow.  Once there, Ned and Olivia hand out seeds to the attendees.  Then, Ned and Olivia reveal a plaque dedicated to Oscar, as everyone throw up seeds that land in the grass for it to grow.
Finally, Kim (Tamara Braun) speaks. She talks about how she raised Oscar on her own, and how after she learned he was sick, she brought him to Port Charles so he could meet his true family.  And with the analogy of the seeds, she says it helped Oscar blossom and how it enriched his young life.  In a heartbreaking moment, she thanks Drew for giving her son courage and being his dad when he needed it, and to Joss for being her son's first love.  Kim hopes that Joss will come back to the meadow often and think of him.  They share an emotional hug.
Later, after Drew thanks Ned and Olivia for putting this all together for his son, Sam (Kelly Monaco) finds him and tells him he was a great father … and is a great father.  He wants to make sure that Scout knows he loves her.
Back at the meadow, Sonny (Maurice Benard) finds Kim in tears alone at Oscar's plaque. He tells her he understands the deep pain and void she is going through, but she has to hold on to how Oscar touched so many lives.   Once Sonny leaves, Kim in tears looks up to the sky and says she'll always love her baby boy.
The episode featured touching performances by Tamara Braun, Billy Miller, Eden McCoy, and William Lipton, who all carried the Oscar dying storyline so beautifully along with Garren Sttit.  Additional kudos go to Lisa LoCicero and Wally Kurth, who as Olivia and Ned, kept Oscar's memorial moving forward, and were also emotional throughout.
So, what did you think of the episode and the performances? Are you sad Oscar is gone?  Comment below.