Bryan Craig Talks Javi In 'Grand Hotel', Recasting GH's Morgan, And His Post-Daytime Career
When Grand Hotel finally makes its highly-anticipated debut this summer (Monday night, June 17th) on ABC, soap opera fans will see some very familiar faces in primo roles as this sudsy drama, based on the Spanish series Gran Hotel, tells the story of a family-owned hotel in Miami, the people who run it, and all of the secrets they keep from one another.
Brought to you by executive producers Eva Longoria and Ben Spector, the show explores the family dynamic of the Mendoza family. Longoria herself will play a mother in four episodes of the show, as well.
General Hospital fans will take note that Daytime Emmy-winner, Bryan Craig (Ex-Morgan Corinthos) is front and center in the cast as Javi Mendoza, the troubled son of the family who has some major obstacles in front of him.
Michael Fairman TV caught up with Craig during the recent ABC TCA's Press Tour for the network to get some insight into his new role, how he would feel if GH would recast the role of Morgan (he recently propped up former DAYS star Billy Flynn as a potential viable candidate) and what it has been like post-daytime in his burgeoning career in film and TV.  Here's what he had to say about his TV life past and present.
What has this experience been like for you taping the episodes of Grand Hotel and working with such a stellar cast?
BRYAN:  It's been incredible   It feels like it went by so fast.  It's an awesome group of people.  We've got a fun show.
How would you say your character of Javi Mendoza stacks up against GH's Morgan Corinthos?
BRYAN:  I think it's one of the most layered characters that I've ever played.  There's a lot going on with Javi.  He has a big disability, kind of like Morgan did.  It's a physical disability, and there are a lot of challenges that come along with that.  He also has a substance problem.  So, some of the same issues and in the same world that Morgan was in.  Javi is a very troubled character, but he is also a lot of fun, and a ladies' man … and sleeps with a lot of women! (Laughs)
Do you think the audience will care for Javi, though?  
BRYAN:  Oh yeah, one hundred percent.  He was written in a very kind-hearted manner.  He's a great guy, who has had a tough life.
Did they put you through a audition process to nab the role in Grand Hotel?
BRYAN:  They had read hundreds and hundreds of people for this role.  I came in at the tail end of it, and then the process went pretty quickly.  I read once, and the next think I knew, I was in a room with Eva Longoria and director, Ken Olin.  Then two days later, I was testing with Eva, and then I got the call that I had the part.
You're a part of the core family, the Mendozas, on Grand Hotel, and on GH, you were part of the Corinthos clan.  How do the family dynamics stack-up?
BRYAN:  It's pretty special.  There are a lot of similarities.  It feels like we have kind of shifted GH into prime-time.  In Grand Hotel, we have Demián Bichir, who plays Santiago Mendoza, and he is my Sonny Corinthos now.   They gave us a very heavy, heavy storyline … just like they gave Maurice Benard (Sonny, GH) and me.   So, I think the fans are really going to buy into it.   ABC, (I think) wanted to marry that bond a little bit, and I feel it was very apparent in the writing.  This network has been very good to me.
Did you know that your co-star Denyse Tontz was in Prospect Park's All My Children reboot as Miranda Montgomery and had a soap past, as well?
BRYAN:  Yes! I did know that.  Denyse plays my sister on Grand Hotel and we work together a lot on the show.  There were quite a few people on the show who came from soaps.  Even some guest stars who came in were big in soap at points.
So, this kind of all  worked out for you!  You left General Hospital, and landed a major primetime series, plus your other movie roles!
BRYAN:  It was a scary move, but it worked out.  I did a few things; a couple of movies, and I did a show for CW for a while, and then this.  So, it's been back-to-back.  I've been fortunate.
How would you feel if General Hospital, ultimately, recast the role of Morgan?
BRYAN:  You know, if it was to behoove the show, then so be it.   I feel like it was a pretty nice end for me there, but I can't sit here and be selfish and be like, "I'm the last person who could play that role!"  Would that be awesome?  I mean, yeah!  But, who knows?  They've got to do what's best for the show.
GH's Maurice Benard had great story in 2018 with the Alzheimer's storyline involving Sonny's dad, Mike Corbin (Max Gail).  Had you been checking it out at all?
BRYAN:  I know!   I do keep up with Maurice a lot.   We are good friends.
To remind those who have not seen the trailer to Grand Hotel check it out below.  Will you be watching Bryan in his exciting new role on Grand Hotel? Will you be OK with a Morgan recast on GH, or hope the show will wait for Bryan to return one day? Share your thoughts via the comment section below.
GH Nurses' Ball 2019 Part One: Nina's Red Carpet Arrival Commentary And Locking Eyes With Jax
On Friday's first installment of the 2019 GH Nurses' Ball episodes, it was red carpet time in Port Charles as all of the most famous and infamous residents got dressed to the nines and to impress.
This year, Nina Cassadine (Michelle Stafford) is back for her on-camera hosting duties covering the arrivals on the live-stream, but is joined by Crimson's New York fashion editor, Sydney Val Jean played by guest star Chandra Wilson of Grey's Anatomy.  And as you'd expect, these two fashionistas battle it out at times on the carpet for attention.
Throughout the arrivals, and through this episode, this one really belonged to the talents of Michelle Stafford, who through her comedic, romantic, and dramatic timing, made for some of the best moments.  In a surprise, when Nina begins to choke after interviewing Peter (Wes Ramsey), Maxie (Kirsten Storms) and Lulu (Emme Rylan),  she excuses herself and ends up outside where Jax (Ingo Rademacher) appears and offers her some champagne.  The two seem to be clearly smitten with each other! Nina accepts his drink, and thanks him, and then goes back inside to her hosting gig, while Jax looks very intrigued by Nina.  Previously, Nina gave a major kiss to Valentin (James Patrick Stuart) when he appeared on the red carpet.
Some of the more shocking …. or interesting red carpet arrivals included: Shiloh (Coby Ryan McLaughlin) showing up with Sam (Kelly Monaco) on his arm, and then getting into words with Sonny (Maurice Benard), who tells the cult leader that family means everything to him and that there is nothing he wouldn't do for the people he loves.  Shiloh is convinced Kristina (Lexi Ainsworth) will come back to "Dawn of Day".
When Anna (Finola Hughes) and Finn (Michael Easton) stroll down the red carpet, they get distracted when a dapper Robert Scorpio (Tristan Rogers) shows up, clearly intent on wooing back Anna, to which Anna looks caught by her feelings for both men while Finn is pissed at the game's Robert is playing.  Later, Finn confronts Robert about his ring.
Everyone was shocked when Kevin Collins (Jon Lindstrom) showed up arm and arm with Ava Jerome (Maura West).  We later learn that this is an attempt to smoke out Ryan, who Ava believes will show his face at the ball.   Lucy (Lynn Herring), the hostess with the mostess, comes up with a plan to get Kevin away from Ava, not knowing they are not romantically together and tries to, perhaps, rekindle their romance up in a Metro Court hotel room.  Meanwhile, Scott (Kin Shriner) wants to get Ava away from Kevin, so he heads up to Lucy's room with Ava to show her and to catch Kevin and Lucy together, but we don't know what they saw when the door opened!
Meanwhile in Toronto, Canada, Curtis (Donnell Turner) and Laura (Genie Francis) come to realizing they have been tied up and there is a gas leak in the cabin.  Laura realizes Ryan is trying to kill her in an explosion just as he was supposed to have perished in at the fun house years ago.  It appears Ryan set a trap for Laura and Curtis and fled the scene.  The two extricate themselves before running from the cabin just as it blows up!
Back at the ball other notable couples have arrived from: Chase (Josh Swickard) and Willow (Katelyn MacMullen), to Michael (Chad Duell) and Sasha (Sofia Mattson), to Franco (Roger Howarth) and Liz (Rebecca Herbst), to the GH nurses crew.
The episode ends with an announcer telling all the guests to take their seats as its just about showtime!  And of note:  Is the opening title sequence music changed to a new theme for GH, or is it just for the Nurses' Ball episodes? That's one of the buzziest questions today.
So, what did you think of the red carpet arrivals?  Michelle Stafford's performance?  Jax meeting Nina? What do you think will happen next with Ryan?  Comment below
Josh Swickard Performs The Chainsmokers & Coldplay's "Something Just Like This" In GH Nurses' Ball Sneak Peek
General Hospital is getting you ready for the GH Nurses' Ball 2019 edition, by releasing the full musical number performed by Port Charles' Harrison Chase AKA Josh Swickard during the gala.
As a prelude to the ball and what is to come, Swickard takes on the top hit made famous by The Chainsmokers and Coldplay, "Something Just Like This" along with the Nurses' Ball dancers.  And yes, there is cute moment for Chase/Willow (Katelyn MacMullan) fans when he brings Willow up to the stage!
Lucy Coe (Lynn Herring) introduces Chase before he performs and Lynn Herring took to her Twitter account yesterday when GH released this sneak peek stating: "Hey, how did this get out there before the BALL!! Someone has some 'splainin' to DO!"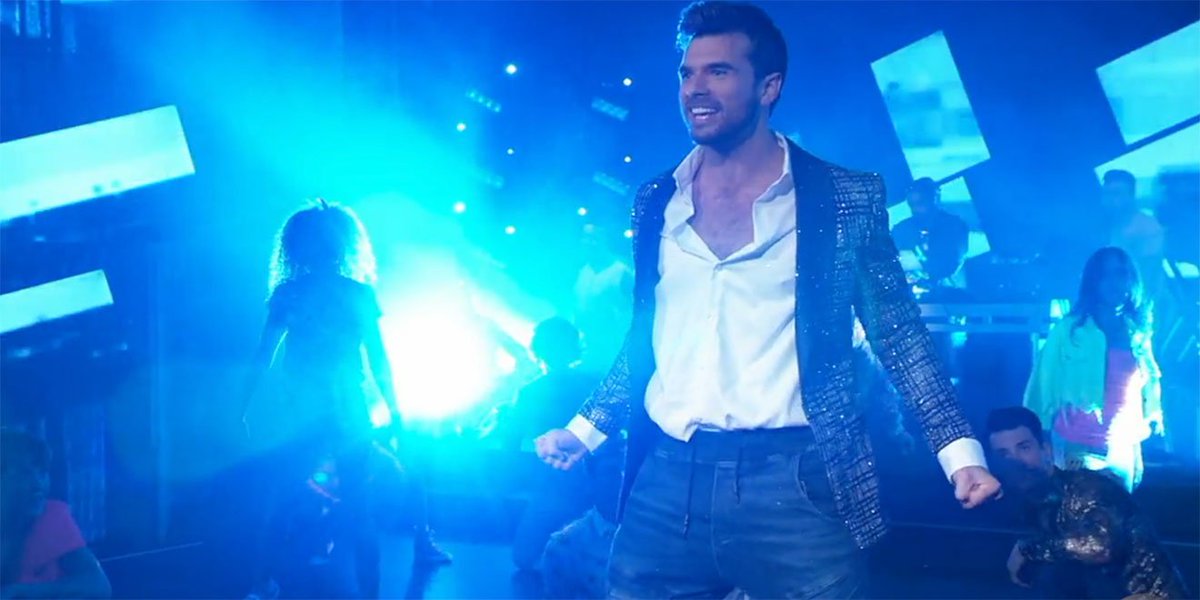 GH social media accounts teased: "After bringing down the house last year, we couldn't wait for you to see Chase's latest Nurses Ball number – so here it is! This is the only place you can watch his entire performance before it airs next week."
The 2019 Nurses Ball begins tomorrow on the Friday, May 17th episode of the ABC daytime drama series.
Now below watch Josh's performance and then let us know what you thought of it via the comment section below, and let us know who else do you hope performs at the ball!
GENERAL HOSPITAL: Oscar's Memorial Brings With It Remembrances By Those Who Loved Him
On Monday's emotional episode of General Hospital, Ned (Wally Kurth) and Olivia (Lisa LoCicero) summoned family, friends, and loved ones to honor Oscar Nero (Garren Stitt), since he just past away due to his battle with brain cancer.  Oscar had his own way he wanted everyone to mourn his death and Ned and Olivia carried out his wishes.
When everyone gathers together, Ned and Olivia announce that Oscar wanted this to be a celebration.  After everyone arrives they sit picnic-style and some get up to speak to remember the amazing young man that Oscar was.  It turns out to be Michael (Chad Duell) who starts the tribute by saying that Oscar was brave to date his intimidating sister.  Next, Cameron (William Lipton) touches on his journey to friendship with Oscar.  Joss (Eden McCoy) finds the courage to go next and remembers how she had a crush on Oscar and how he wasn't easy to talk to but how she was intrigued because he was mysterious. She then tells show she eventually fell in love with Oscar, and how she will never forget him.  When Drew (Billy Miller) gets up next, he breaks everyone's heart by stating that he will be eternally grateful to have known his son and will always carry him in his heart.
Next, Ned asks everyone to follow him to the meadow.  Once there, Ned and Olivia hand out seeds to the attendees.  Then, Ned and Olivia reveal a plaque dedicated to Oscar, as everyone throw up seeds that land in the grass for it to grow.
Finally, Kim (Tamara Braun) speaks. She talks about how she raised Oscar on her own, and how after she learned he was sick, she brought him to Port Charles so he could meet his true family.  And with the analogy of the seeds, she says it helped Oscar blossom and how it enriched his young life.  In a heartbreaking moment, she thanks Drew for giving her son courage and being his dad when he needed it, and to Joss for being her son's first love.  Kim hopes that Joss will come back to the meadow often and think of him.  They share an emotional hug.
Later, after Drew thanks Ned and Olivia for putting this all together for his son, Sam (Kelly Monaco) finds him and tells him he was a great father … and is a great father.  He wants to make sure that Scout knows he loves her.
Back at the meadow, Sonny (Maurice Benard) finds Kim in tears alone at Oscar's plaque. He tells her he understands the deep pain and void she is going through, but she has to hold on to how Oscar touched so many lives.   Once Sonny leaves, Kim in tears looks up to the sky and says she'll always love her baby boy.
The episode featured touching performances by Tamara Braun, Billy Miller, Eden McCoy, and William Lipton, who all carried the Oscar dying storyline so beautifully along with Garren Sttit.  Additional kudos go to Lisa LoCicero and Wally Kurth, who as Olivia and Ned, kept Oscar's memorial moving forward, and were also emotional throughout.
So, what did you think of the episode and the performances? Are you sad Oscar is gone?  Comment below.